Revised Coporal Punishment Policy
A downloadable copy of this form can be found by clicking on this link.
COOSA COUNTYBOARD OF EDUCATION
POBOX 37
ROCKFORD, ALABAMA35136
256-377-4913
Corporal Punishment
To maintain discipline or to enforce rules, corporal punishment may be administered through moderate use of physical force or physical contact. Such punishment shall be administered under conditions which do not hold the student to ridicule or shame and which punishment is never cruel or inhumane and never administered with malice. Corporal punishment should not be administered in the presence of another student.
Only the principal or his or her representative may administer corporal punishment to students in grades K-12. A certified person other than the one administering the corporal punishment shall be a witness to all incidents of such punishment.
The procedures listed below must be followed to guarantee proper and legally required due process on behalf of students:
1) The student must be informed of the reason(s) for corporal punishment.
2) The administration of corporal punishment must occur in the presence of another professionally certified
school official, but only after
a. The school official is informed about the reasons for punishment in the presence of the student;
b. The student is given the opportunity to defend his/her position;
3) No more than three licks shall be administered to the student's buttock.
A written report shall be prepared on each incident of corporal punishment. The report shall be signed by the
administrator administering the punishment, the witness and the student. A copy of the report shall be filed in the school's office and a copy shall be forwarded home to the child's parents.
Parents will be given the opportunity to opt out in writing from the use of corporal punishment for their child as a disciplinary measure.
Please sign below that you have read the above information and return this form to your child's teacher.
Check one:
! My child may receive corporal punishment.
! My child may not receive corporal punishment, and this is the number where I can be reached to immediately come pick up my child: ______________________.
_________________________ ___________________________ ____________________
Student Name Parent Signature Date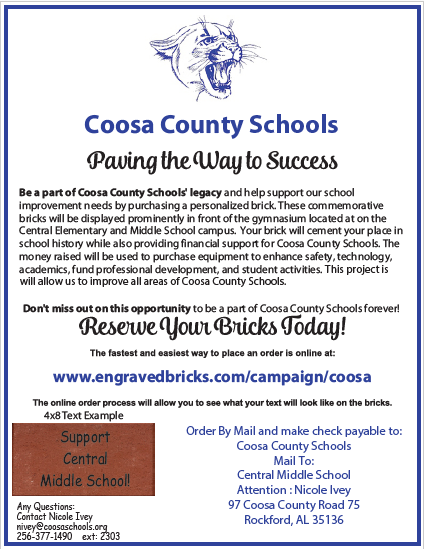 Dream It, Believe It, Achieve It.
We believe:
---
· The education of students is a responsibility shared by students, faculty and staff, parents, and the community.
· All students must have opportunities to learn and to be successful.
· Maximum student learning takes place in a positive environment that includes consistency and structure.
· When engaged in rigorous, authentic learning activities that target a variety of learning styles, all students will gain the knowledge and skills necessary to attain personal and professional success.
---